Matt Hyland is a prolific restaurateur, with multiple locations of his pizzerias, Emily and Emmy Squared, alongside a newly opened grilled pizza restaurant, Violet, in Manhattan's East Village. And he has plans to open four Emmy Squared locations per year, initially along the east coast.
But before you celebrate the eventuality of Hyland's restaurant empire thrusting a Emmy Squared location into a sports stadium, mall, airport, or college campus near you, we need to talk about Matt Hyland and his history of problematic behavior.
Detroit-inspired pizzeria Emmy Squared has been marred by allegations that Hyland and his then-wife and business partner, Emily Hyland cut out the original Emmy Squared investors and chef from expansion plans.
In March of 2017, Eater reported that Emmy Squared chef-partner Louis Tomczak left his role as chef but remained a partner: "Home to Detroit-style pizza and a sought-after burger, Emmy Squared has lost Paulie Gee vet and partner, Lou Tomczak. "Lou chose to pursue other avenues and chef Matt Hyland continues to be at the helm of the dough program for the entire Pizza Loves Emily organization, as he has since the opening of their first restaurant, Emily," says a spokesperson of Tomczak's departure. The Hylands were not available for comment. Tomczak remains a partner."
Clearly, Hyland, not Tomczak, was and always had been, responsible for the dough at Emmy Squared, and this spokesperson really wanted you to know that.
A month after Tomczak's departure, Tomczak and four other investors filed a lawsuit against the Hylands, on behalf of the corporation of Emmy Squared. The lawsuit alleged that the Hylands cut out the investors from Emmy Squared expansion plans, and further, the suit claimed that Hylands together were only minority shareholders of the corporation of Emmy Squared, and the Hylands did not have the authority to manage the corporation.
The Hylands are accused of locking the investors out of Emmy Squares accounts and records, and they're accused of expanding Emmy Squared using different branding and by creating a separate limited liability corporation (LLC) in order to exclude the investors. The investors cite LLC and NYS Liquor Authority filings by the Hylands to establish their intent to expand without the investors.
The investors also alleged that the Hylands failed to pay them owed distributions, and they claim the Hylands used the corporation's money to subsidize personal trips and vacations, pay themselves "unauthorized management fees," and fund purchases, training costs and legal fees associated with the Hylands' other endeavors.
According to Eater, "the Hylands denied all the allegations and claimed that they are actually owed money," the logical equivalent of "no, you are."
In the spring of this year, Violet received a strongly negative review from an anonymous professional restaurant critic. The critic complained of substandard pizza at Violet and recommended against visiting the restaurant.
That all might sound pretty typical—bad reviews happen to everyone. But then Hyland retaliated: he obtained the critic's Tinder profile and used it to publicly shame the critic in his Instagram Story.
---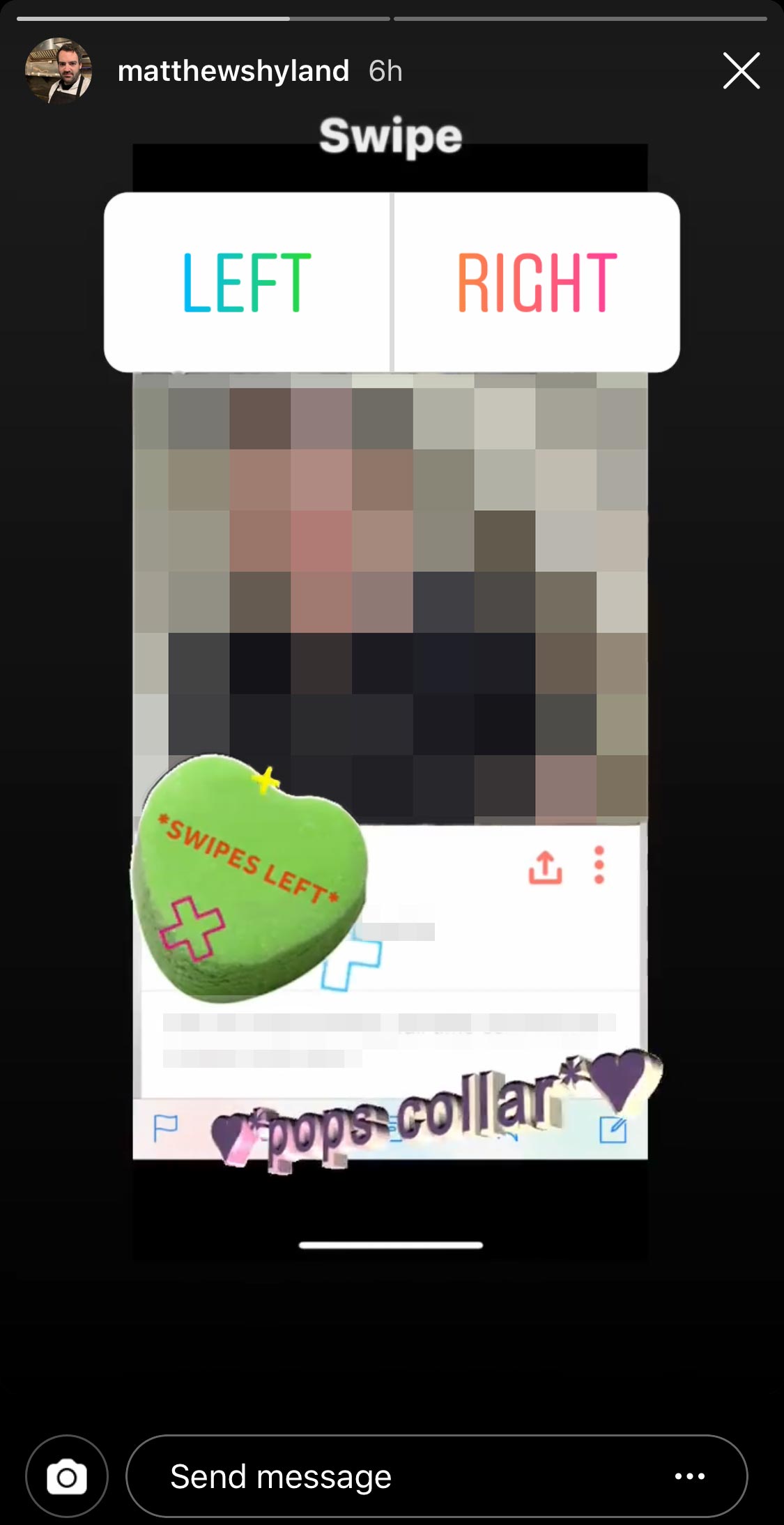 Hyland's Instagram Story presenting the critic's Tinder profile, with a poll for followers to vote how they would swipe in response to the profile. Hyland covered the journalist's name with a "swipes left" icon. This image was modified for publication in order to redact personally identifying information.
(Instagram)
---
Hyland posted the critic's face and created a poll for his readers to vote on the critic's attractiveness, encouraging followers to vote "swipe left" to reject.
Hyland followed up his initial Story by posting the results of his poll and continued mocking the critic. Hyland reviewed the critic's dating profile in a way that referenced the critic's review of Violet, and Hyland added personally identifiable information for the critic.
Hyland doxed a critic in response to a review. He tracked down the critic's Tinder account, and used that to shame and out a critic whose appearance was previously generally unknown.
---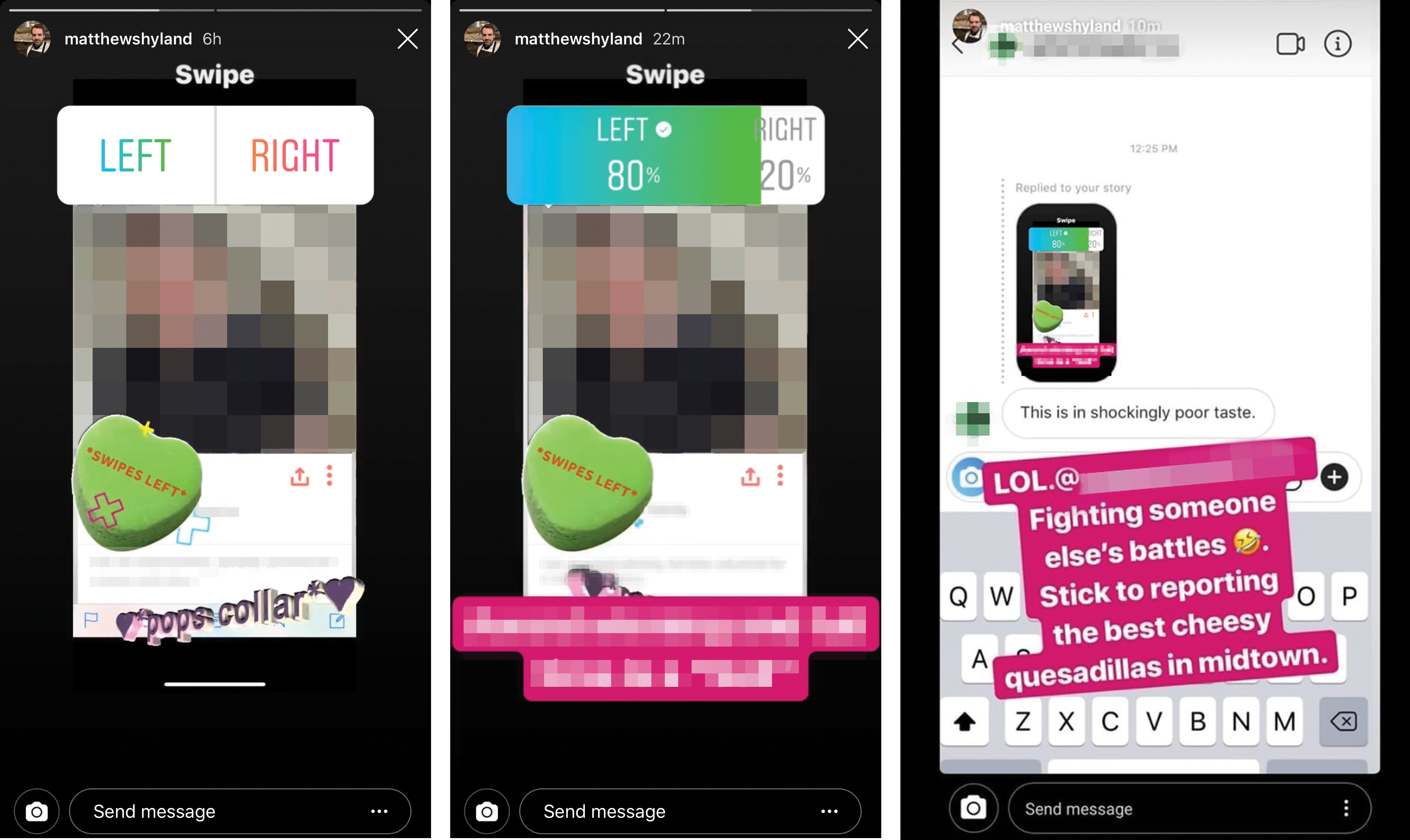 Screenshots of Matt Hyland's Instagram Stories From left to right: Hyland's initial Story featuring the critic's Tinder profile, an update to Hyland's story featuring added personally identifying information, and Hyland's attack on a second journalist. Each image was modified for publication in order to redact personally identifying information.
(Instagram)
---
---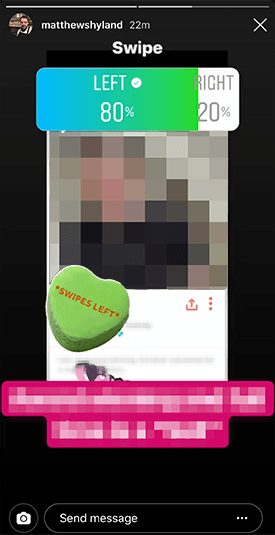 An update to Hyland's Instagram Story, in which he shared the results of his poll and added personally identifying information for the journalist. This image was modified for publication in order to redact personally identifying information.
(Instagram)
---
A different journalist sent Hyland a message on Instagram indicating that the Stories were in poor taste. Hyland, continuing to delaminate, responded to the journalist by posting the private message in his Story and mocking them.
---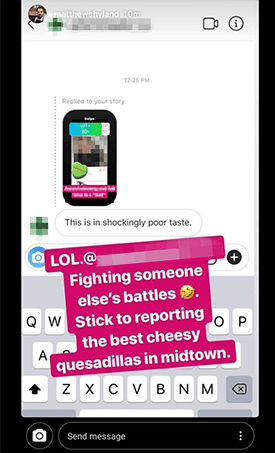 A second journalist responded to Hyland, and Hyland mocked them in his Instagram Story. This image was modified for publication in order to redact personally identifying information.
(Instagram)
Hyland responded to a critic's negative review by publicly exposing and humiliating the critic. Hyland crossed a line, and in doing so, he risks setting a dangerous precedent: restaurateurs can attack the press for a bad review and continue on unfettered. No journalist should ever have to deal with being the subject of a public shaming of their private life in retaliation to a review.
In response to an Instagram story I posted discussing Hyland's attack on the critic, Hyland said the following: "Lol. You are so weird." And to Hyland that makes sense; he's been conditioned to expect that no one will really hold him accountable for his actions. It would seem weird for someone to care about his behavior.
Pizza Hacker, a San Francisco-based pizzeria, participated in the shaming of a woman who complained about receiving a burnt pizza on Yelp (her review was among many examples of burnt pizzas from Pizza Hacker). In response to the controversy over the shaming of the woman, a Pizza Hacker fan gave an impassioned defense: "None of that matters once one of these slices go in ya pie hole."
That quote, in all of its vapid irreverence, stuck with me. It's emblematic of a general failure to hold restaurateurs accountable. Hyland and others like him are fueled by this sort of unconscious consumerism, a consumerism driven purely by self-interest.
"I like having this food in my mouth," "This food didn't cost me a lot of money," or "I had a good experience in this restaurant," form the basis of the unconscious consumer's perception of a restaurant. The conceit of that consumerism, when presented with controversies like Hyland's, reduces to "it didn't happen to me, so why should I care?" Why shouldn't Matt Hyland attack the press, as long as there'll still be people putting his food in their pie holes?
To "not take a side," to "not get involved," is the path of least resistance. It's an implicit acceptance of Hyland's behavior. It's the path that reinforces to Hyland that he will not be held accountable for his actions, and it enables Hyland's behavior to continue. To not take a side is a feckless fallacy—there is only acceptance of Hyland's actions or rejection.
In the aftermath of Hyland's shaming of the critic, I received a flood of response, from whataboutism pointing to other industry Big Bads and a claim that the critic isn't very good anyway, to more salient points: "...when you make an effort to humiliate someone on such a personal level it's pretty fucking sadistic and weird."
Truth be told, almost all of the comments I received were like the latter. It is pretty fucking sadistic and weird—the worst kind of weird. ////