Clarence Kwan, @thegodofcookery, is a branding executive that has built his brand on calling out cultural appropriation in food. He's launched a zine and accompanying t-shirt with proceeds going to charity, and he and his work were written up by Vice, 032c, The Infatuation, The LA Times, and others. But Kwan's recent attack against a Bay Area chef and Korean adoptee, Eric Ehler, misrepresented Ehler's racial and culinary background, and that led to the reveal of Clarence Kwan's history of bigotry and erasure against not only adoptees, but also mixed-race people, women, and others. The entirety of my reporting on Kwan can be found on my Instagram account, in my Story Highlights titled, thegodofcookery and 2god2cookery. The text of this document was originally the caption of a post that I made on Instagram.
---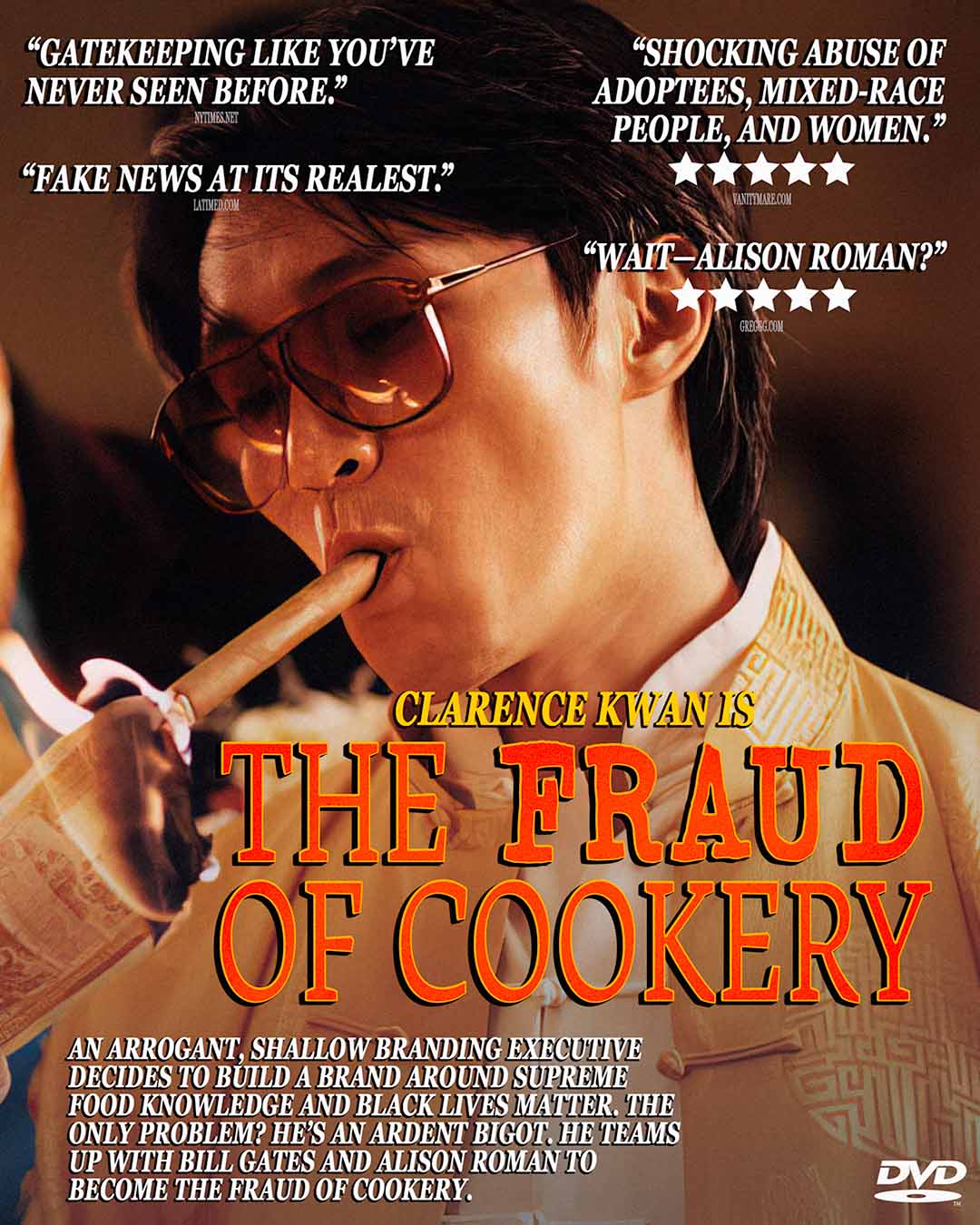 Mock DVD cover for The Fraud of Cookery, based on The God of Cookery, the film from which Clarence Kwan's Instagram profile picture was obtained. Originally presented as an Instagram post. (@joe_rosenthal on Instagram)
---
In a post in response to the Eater SF writeup of Lazy Susan, Kwan accused Ehler, the restaurant's chef of "adopting a white gaze" and ignored the fact that Ehler not only worked as a sous-chef in a Chinese American restaurant, he nearly died in one. That attack led to a severe rebuke from adoptees and allies, and a heart-breaking series of videos from Ehler about how Chinese food played a critical role in exploring his Asian identity and the trauma of being told that your identity is not enough. I strongly recommend you watch the videos, I Am: Asian American and Keep Moving Forward.
---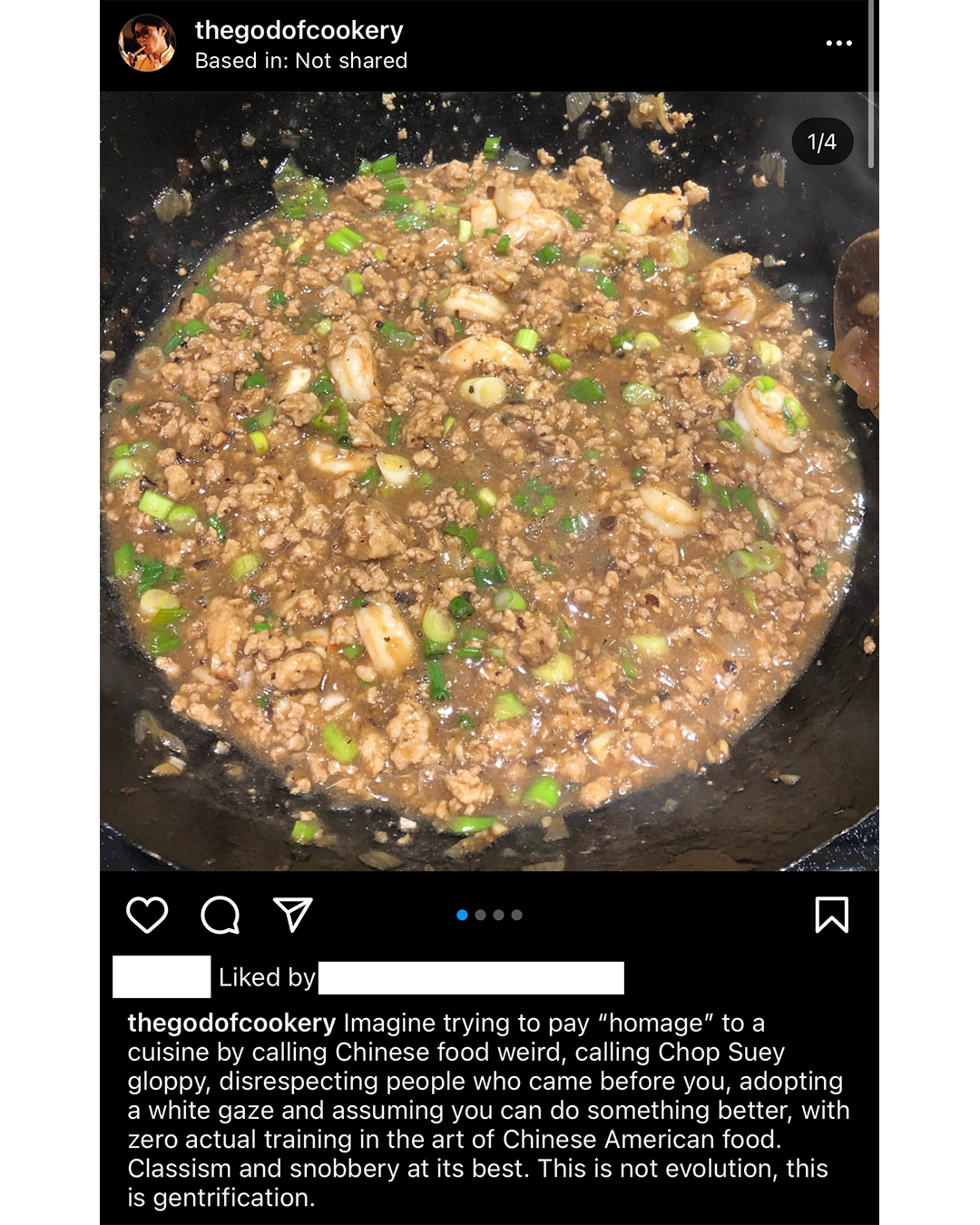 Screenshot of Clarence Kwan's initial post about Eric Ehler.
(Instagram)
---
One of my sources, who is Chinese has a grandfather that was a Cantonese BBQ cook. The source claimed that during a phone call, Kwan told them that they couldn't cook Cantonese BBQ authentically; and that he said, "of course ur BBQ isn't going to be authentic, ur 50% and I'm 1000% Chinese."
In a conversation that I had with Kwan, he called David Zilber, a Black man, "white adjacent," and Kwan dismissed Zilber's views on appropriation because he's biracial. Kwan wrote that "mixed race ppl can be super confused."
---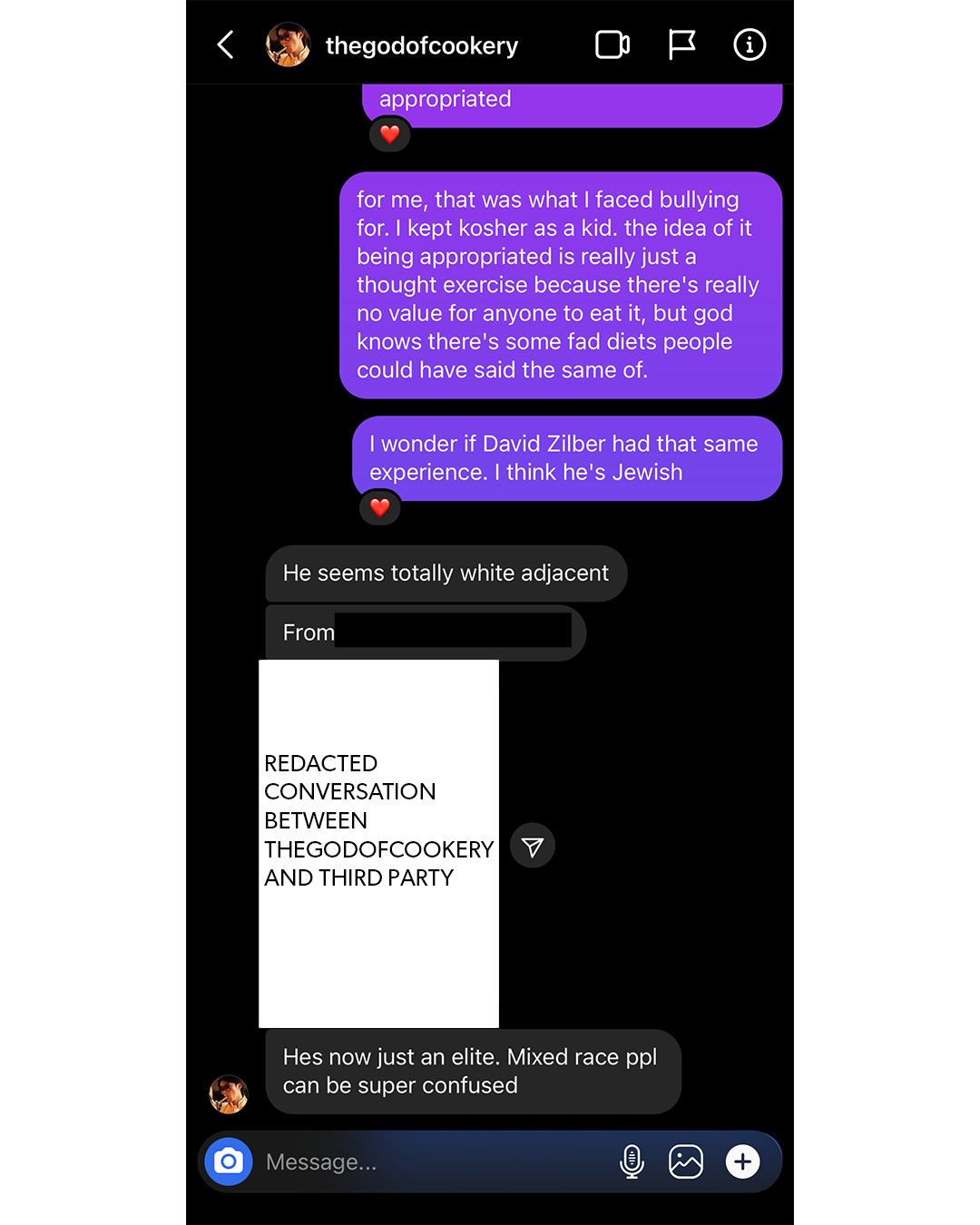 Screenshot of Clarence Kwan's comments about David Zilber and mixed-race people.
(Instagram)
---
Kwan threatened Zoe Yang, an Asian woman who has published articles with Bon Appétit, for her defense of a Black woman who Kwan called out regarding their discussion of Hainanese chicken. Kwan told Yang that her defense "does not reflect well on you, or on BA. I know several of the editors there, and I have spoken to them about your post, and they were shocked about your response."
Kwan called out Rebecca Firth for being a white woman doing mooncakes. He argued that while Firth had lived in China, she had no credibility, and that she presented mooncakes without cultural context. Kwan argued "if they bothered to involve 'a' Chinese person in this recipe," it would have been known that "very few Chinese people ever make Mooncakes," and he called it a "futile exercise."
Firth is a single mom to Chinese daughters, and her 17-year-old daughter wrote to Kwan, and she told him the following:
"My mom, @displacedhousewife, DID consult a Chinese person (me) on her fillings. She wanted to expose her following to mooncakes in a way that they would also enjoy while still educating about the culture: If you had bothered to actually read her article in Bake from Scratch then you'd know she talked extensively about the origins, yolks, flavours, and moulds. And if you truly are so passionate about mooncakes like you seem to be, you'd know that CHINESE PEOPLE WHO LIVE IN CHINA are completely fine with variations and even encourage them (with and without the egg yolk). Are you going to shame Guinness for doing a beer mooncake? What about when Starbucks makes mooncakes? I am not trying to invalidate your feelings but you are simply making up assumptions and spouting outright lies to your followers. It's unacceptable and honestly makes me angry to see someone label my own mom, who has always tried to embrace and uplift Chinese culture, be labeled as a cultural appropriator."
Kwan ended the conversation with Firth's daughter with the following: "I spoke to your mother about this. She agrees with what I said. I suggest you speak to her to get a better understanding of these forces at hand." The claim that Firth agreed with Kwan was false, of course, and Kwan never added more context to his reporting, which contained the following quote in its conclusion: "I hope y'all lose sleep tonight thinking about everything that's been said here. If you don't, you might have a problem with the way you approach BIPOC food. You might as well take down your entire account.
That type of misreporting was typical of Kwan. I've spoken to multiple chefs who claimed that Kwan intentionally misrepresented their views and posted DMs out of context. Nick Wong, a Chinese chef, wrote the following in an Instagram comment in response to Kwan's updated caption in his post attacking of Eric Ehler: "I still remember when you erased me from the narrative of my restaurant twice just to attack my boss, so you'll forgive me if I take this 'apology' with a grain of salt."
Kwan called out a Bon Appétit recipe, "Saag Paneer but with Feta," as an example of "white-first food media," and this was an example in a discussion of "whitewashed recipes" by "white editors writing with a white gaze." Kwan failed to report that the recipe was written by Priya Krishna, an Indian food writer.
A source reached out to Kwan at the time and told him that the recipe was from Krishna's cookbook, and that it was born of Krishna's family's experience of not being able to find paneer, which was discussed in the write-up accompanying the recipe. Kwan responded to my source with the following: "Yes Im aware! Thank you. The problem is, when you are complicit in whitewashing of recipes yourself, it's hard to step into the other side of the convo," he followed that immediately with, "Cant whitewash on one hand, then ask for total truth on the other. BA has always been problematic in that sense, no matter who the recipe developer is."
In September 2020, J. Kenji López-Alt released "The Elements of Wok Hei, and How to Capture Them at Home" with The New York Times. In response to the wok hei article, Kwan specifically dismissed the cooking expertise of the four Chinese women consulted for the piece, and referred to Lan Lam, Stephanie Li, Eileen Yin-Fei Lo, and Grace Young as "amateur home cooks." Each is a highly respected figure in the food world. Grace Young wrote a book, "The Breath of a Wok," which is the English translation of "wok hei," and she popularized the usage of the phrase in English.
Despite that, Kwan wrote, "If you're going to talk about wok hei, you need to leave it to the professionals. I should know, as I cook wok hei dishes part time." An Eater video on YouTube, revealed that restaurant to be East Court and Mike's BBQ in Toronto, and a review of the restaurant noted that Kwan "helps out on weekends for free." Kwan has also implied that he does not need to have professional cooking experience to be an expert, because he has "supreme knowledge of food."
---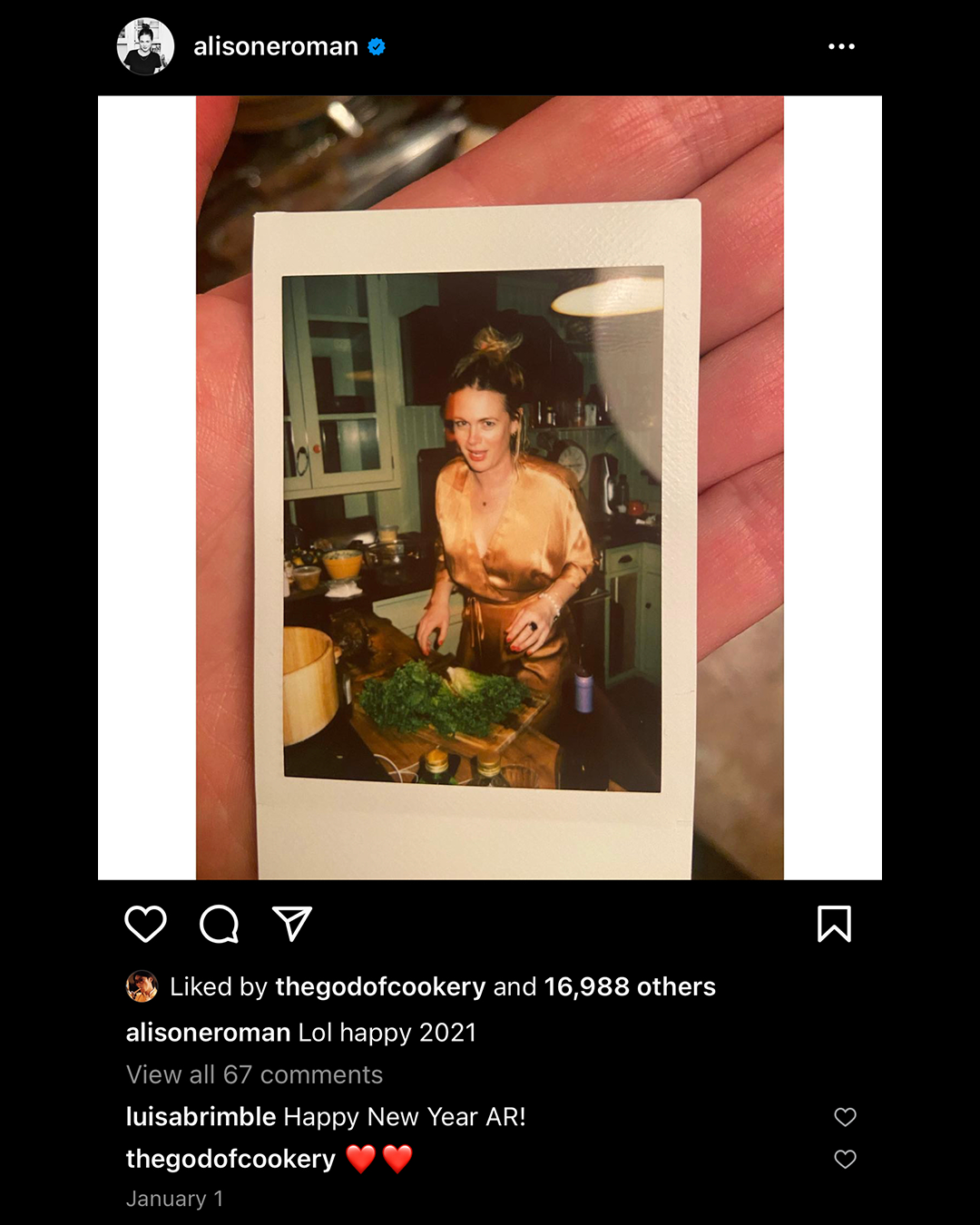 Screenshot of Clarence Kwan supporting Alison Roman.
(Instagram)
---
Kwan weaponized identity to marginalize people of color whose identities he deemed to be not enough. And while harming those that he purported to champion, he supported problematic figures like Alison Roman, and Angela Dimayuga, seemingly to establish clout. When called out by someone for comparing the violence against Jacob Blake to food appropriation, Kwan responded in a DM with the following: "My work during the day is with BLM color of change and the obama foundation. I work with Bill Gates and Tina Knowles. I know a little about uplifting black folks and allyship."
---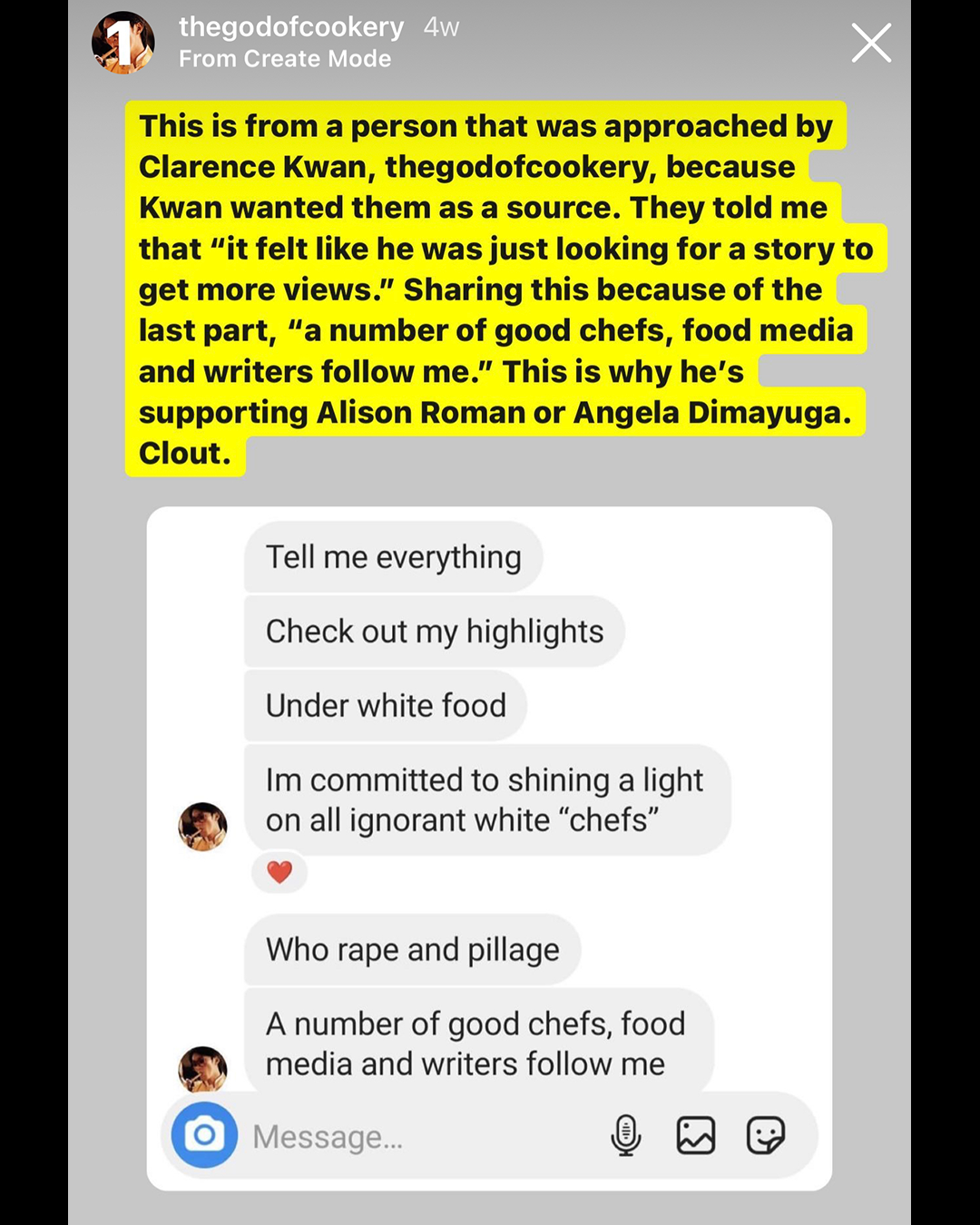 Screenshot of an Instagram Story with a DM of Clarence Kwan bragging about the high-profile food figures that follow him. He used the language rape and pillage to describe food appropriation.
(Instagram)
---
Kwan is the head of creative and a partner of A/B Partners, a public relations consulting firm. He was fired from his previous employer and walked out after what I've been told was a long pattern of abusive behavior. His biography on the A/B website summarized his time with the company that fired him as a long tenure.
I received a comment regarding Kwan's choice of name for his persona, @thegodofcookery: "The irony of naming yourself the god of cookery - after a stephen chow movie in which a celebrated chef/ man of the people is revealed to be a sociopathic fraud with a PR machine behind him." Maybe Kwan was telling us something all along.
---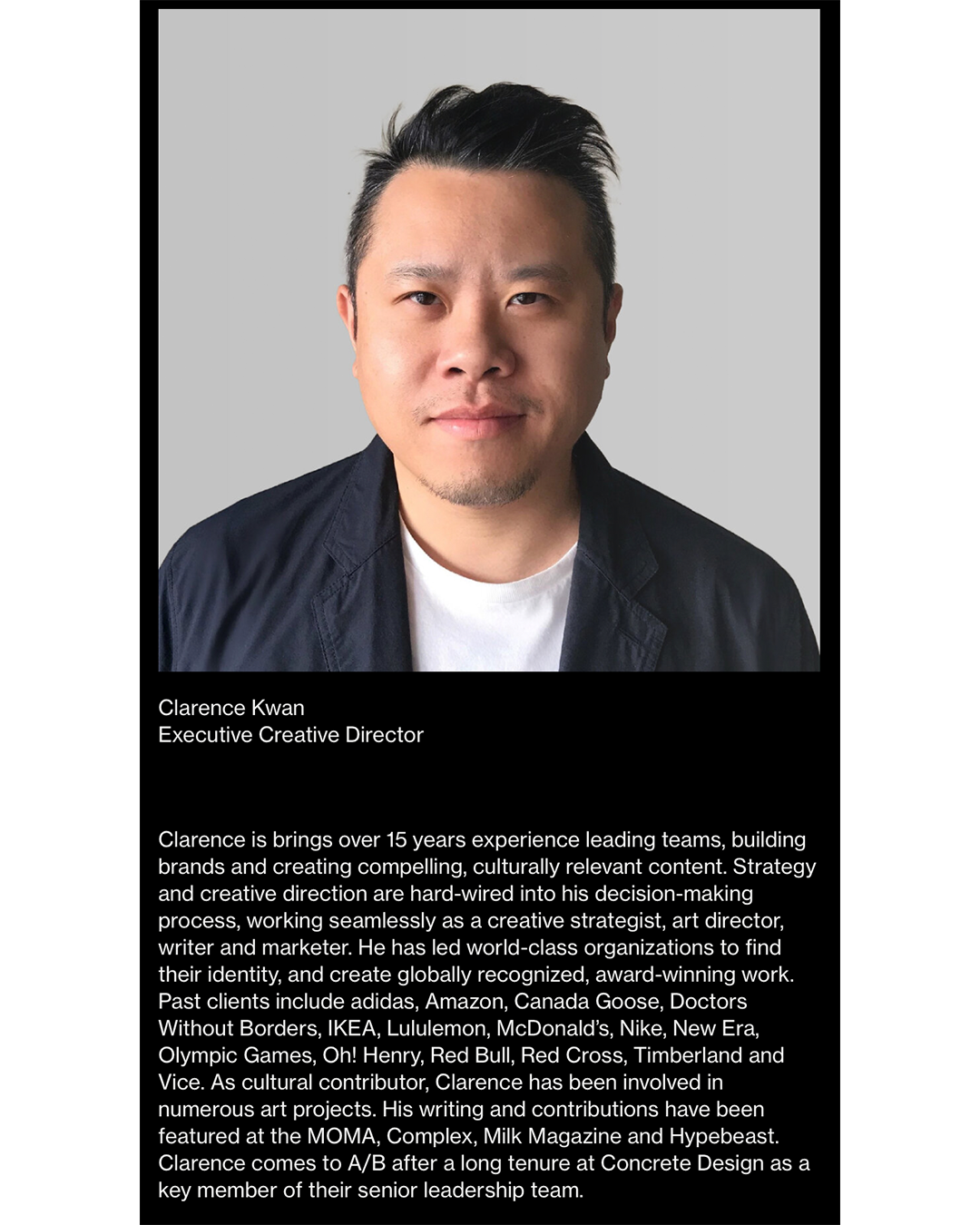 Screenshot of Clarence Kwan's bio describing his professional background.
(A/B Partners)
---